Back to News
Batey Relief Alliance brings humanitarian aid to economically-isolated DR-Haiti border communities.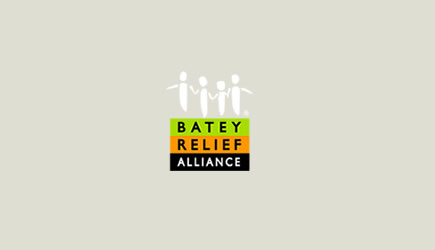 29 March, 2009
NEW YORK. – The Batey Relief Alliance (BRA) is launching a multi-level, bi-national humanitarian mission trip from April 6th through the 24th to assess critical health and nutritional needs, deliver medical and nutritional assistance, and conduct deworming activities within the southeastern border regions of the Dominican Republic and Haiti.
BRA's CEO, Ulrick Gaillard said, "A team of experts and executives from the U.S-based partner nonprofit, Vitamin Angel Alliance will travel from the 6-11 to Dominican provinces of Barahona and Pedernales identifying children who are at great risk of malnutrition and provide them with multivitamins, food and antiparasitic medicines." Gaillard added that the food distribution is part of a USAID-BRA collaboration to distribute annually 75 MT tons of dehydrated food commodities to children and their families severely affected by poverty, disease and hunger in Dominican Republic's most vulnerable communities.
Meanwhile from the 10-24, BRA will bring to Haiti's commune of Anse-a-Pitres a team of foreign dentists, faculty and assistants to deliver, collaboratively, with local Haitian doctors and nurses free dental and medical care to local residents, and multivitamins and antiparasitic medicines to school-aged children (2-12). "These activities are first steps we are taking to gradually establish with local and foreign partners a permanent humanitarian intervention at the border to address the health and socio-economic needs of the populations," concluded Gaillard.