Back to News
Batey Relief Alliance (BRA) launched humanitarian relief effort for Dominican deportees.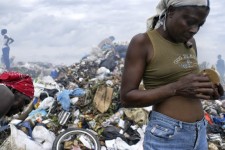 17 December, 2015
SANTO DOMINGO, Dominican Republic. – As a result of the application of a 2014 Dominican Republic's immigration law, hundreds of thousands of undocumented Dominicans of Haitian descent and Haitian migrants living in the country are now at risk of being deported to Haiti. "The situation has produced panic and fear among many who have gone into hiding to avoid deportation and those who have fled across the border to Haiti to avoid threats or harassment," said Ulrick Gaillard, BRA's CEO.
In response to this unfortunate event, the Batey Relief Alliance (BRA) mobilized some of its strategic partners such as the U.S Agency for International Development (USAID), Procter and Gamble (P&G), Vitamin Angels, Direct Relief and Week of Compassion and launched a relief operation called "Act of Compassion" covering four Dominican border regions (Jimani, Pedernales, Elias Pina and Dajabón), four provinces (Monte Plata, San Pedro de Macorís, Santo Domingo and Barahona) and more than 70 deep rural communities, including the impoverished sugarcane plantations enclaves known as "bateyes". "Individuals who require immediate or ongoing medical care for chronic conditions and infectious diseases, and need of food, will forego medical attention. Avoidance of medical treatment, such as HIV antiretroviral, accompanied with the lack of nutrition, directly threatens the health of families and communities," added Gaillard.
During the six-month humanitarian intervention, which started in July 2015, BRA deployed dozens of its field personnel and volunteers, 50 community health promoters, and mobilized12 local partner grassroots groups to provide 300,000 multivitamin tablets, 300,000 water purifier packets, 1.9 million servings of food, Antiparasitic drugs and basic medical attention to 5,000 people, especially those who are vulnerable and health at-risk, including pregnant/nursing women, children, the elderly and people living with HIV and AIDS. Recipients also received free health crisis prevention education, voluntary HIV testing and counseling and vision evaluation. "Special attention was extended to those who are health and nutritionally at-risk, extremely poor, severely malnourished, very sick, and/or abandoned," added Gaillard.
BRA is now evaluating the possibility of expanding the current humanitarian assistance effort from the Dominican Republic into Haiti's border community of Anse-a-Pîtres where more than 3,000 deportees have been living in unsanitary conditions in makeshift settlement camps without access to basic medical care, food or clean drinking water.