Back to News
Batey Relief Alliance (BRA) received new street name in DR.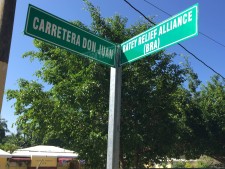 17 December, 2015
SANTO DOMINGO. – On August 28, 2015, the Dominican government, through the Municipal District of Don Juan, Monte Plata province, passed a resolution unanimously naming a new street after the Batey Relief Alliance (BRA)—"Calle Batey Relief Alliance (BRA)". Members of the voting and signatory District board acknowledged that the gesture is in recognition of the organization's humanitarian work on behalf of the Dominican Republic's poorest and most vulnerable populations since 1998.
The board added that BRA is a non-profit, humanitarian entity that has shown great solidarity and cooperation with all people living in the country, and, as a result, deserves the utmost respect and recognition that is now receiving from all segments of the society whether in the urban slums, rural communities, bateyes or border localities, especially in the areas of healthcare, food security, education and capacity building.
The board recognized that its acknowledgment also extended to BRA's founder, Ulrick Gaillard, whom has worked tirelessly to bring help to the communities since he first visited the province.
Supported by law # 176-07 of the National District and municipals, the District of Don Juan voted on August 28, 2015 to name the new street, "Calle Batey Relief Alliance (BRA)" situated in Batey Cinco Casas, off highway Don Juan, province of Monte Plata.