Back to News
Batey Relief Alliance (BRA), with support of USAID, addresses food insecurity among Dominican's poorest populations.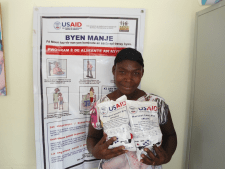 17 May, 2016
SANTO DOMINGO, Dominican Republic, May 17, 2016 – Through the Batey Relief Alliance (BRA)'s Food Security Program, the United States Agency for International Development (USAID) contributed last year more than $629,063.00 to distribute 150.08 metric tons of dehydrated food to more than 20,700 people living in eleven provinces of the Dominican Republic.
"The program establishes a network of key local organizations that ensures that those who really need the food do receive it," said Ulrick Gaillard, BRA's CEO. The distribution partners include the country's Ministry of Public Health, through the Provincial Health Directorate (DPS) in Hato Mayor and Monte Plata; and the municipalities. Additionally, 22 non-governmental grassroots groups such as the Dominican Network of People Living with HIV / AIDS (REDOVIH), Solidarity Alliance to Combat HIV / AIDS (ASOLSIDA), Grupo Paloma, the Center for Promotion and Human Solidarity ( CEPROSH) and the Social Service of Dominican Churches (SSID), among others.
Since 2007, BRA's food aid initiative benefited more than 140,000 people through the distribution of 1,011 metric tons of dehydrated food and the provision of other basic services.
Gaillard added that the food aid program complements three other important BRA programs: 1) Primary and Maternal-Child Health, providing comprehensive health services, multivitamin supplements and deworming medicines to 38,000 children and 8,788 pregnant and lactating women; 2) HIV/AIDS prevention in health high-risk populations, promoting voluntary testing and providing treatment to people living with HIV and AIDS; and 3) P&G Children's Safe Drinking Water, providing water purification materials to 3,200 families. "All recipients receive food as an integral part in their treatment and prevention of malnutrition," concluded Gaillard.
According to the latest National Demographic and Health Survey (ENDESA 2013), 7% of children under five suffer from chronic malnutrition, representing a reduction of three percentage points compared with 2007. Severe malnutrition, however, has shown no change, like acute malnutrition in the population under five years, which remained at 2 percent. This version of ENDESA indicates that a 2% have stunted in severe condition compared to the World Health Organization (WHO) standard.
For nine consecutive years, USAID and BRA have developed this food aid program to reduce malnutrition and food scarcity in highly vulnerable people, including pregnant women and children, the undocumented populations of Haitian origin and adults severely affected by extreme poverty, HIV/AIDS and tuberculosis living in the bateyes, urban slums, and rural and border communities with Haiti. This program corresponds to the objective of the United States government to provide quality health services that allow people to contribute productively to society.