Back to News
Batey Relief Alliance (BRA) TO LAUNCH MOBILE HEALTH PROJECT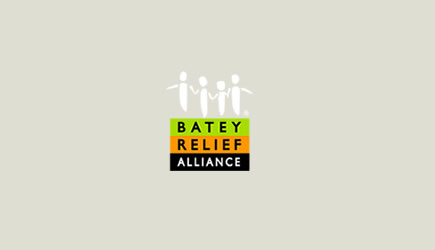 28 February, 2003
Batey Relief Alliance (BRA)'s mobile health care project: full speed ahead
Through a partnership with the NY-based Catholic Medical Mission Board, five US trained health care providers [1 Internist, 1 Physician Assistant, 1 Nurse and 1 Public Health Expert] left their homes on Feb. 28 to join a team of Haitian and Dominican health experts in the Dominican Republic where they will spend one full year providing free mobile health assistance to the impoverished Dominican and Haitian batey population.
BRA Dominicana and BRA's Executive Director, Ulrick Gaillard welcomed the volunteers in Santo Domingo – and later on held several meetings with the Dominican's State Sugar Council's Chief, Victor Manuel Baez. Mr. Baez expressed gratitude to BRA in the name of the nation and acknowledged the crucial importance of the organization's work in the country. The volunteers are now undergoing a one month-long orientation in the country where they are learning about the culture, health care system, the batey communities and their population's health needs and groups they will work with.
The mobile health care project is to complement BRA's annual medical missions and ongoing health care intervention through its local member organizations. BRA will utilize a 30-foot mobile clinic to bring desperately needed health care assistance to impoverished families and children living in remote rural areas – and cannot afford basic care because of money or long distance. The mobile project will be inaugurated May 5, 2003. The project has been financed by the Sovereign Order of Malta, Lions Clubs International, Sisters of Charity of Leavenworth Mission Fund, New Jersey Eye Glass Recycling Center, and private donors. BRA will collaborate with the Dominican's Ministry of Health (SESPAS) and State Sugar Council (CEA), the Haitian Embassy, Peace Corps, Lions Clubs in Santo Domingo, Catholic Medical Mission Board and Direct Relief International to obtain drugs, supplies and equipment – secure volunteers and training – and in logistics. Needy families will receive affordable care in general medicines, pediatrics, gynecology, dentistry, ophthalmology – and preventive health education around HIV/AIDS.
We need to raise $50,000.00 to keep this important project going – to support our volunteers and purchase specialized equipment. Please make your tax-deductible money donation payable to Batey Relief Alliance and mail to P.O. Box 300565, Brooklyn, N.Y. 11230. We ask that you support or have your spiritual groups or favorite organizations support our mobile project. Please contact Ulrick Gaillard at bateyrelief@mindspring.com or (917) 627-5027.