Back to News
Batey Relief Alliance (BRA)'s MOBILE HEALTH PROJECT, is a GO!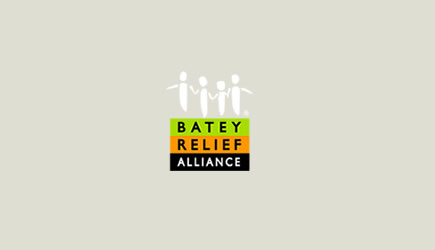 06 May, 2003
Sabana Grande de Boyá, Monte Plata, Dominican Republic
With the support of the Dominican's State Sugar Council (CEA) and the Ministry of Health (SESPAS), BRA member organizations, particularly COTEDO, the Batey Relief Alliance (BRA) and BRA Dominicana's mobile health clinic was inaugurated on May 5, 2003 inside the batey Altagracia of the District Sabana Grande de Boyá, in the province of Monte Plata. "This is a dream come true for all of us who have worked so hard to establish this important project in the bateyes," said Ulrick Gaillard, Executive Director of the Batey Relief Alliance (BRA).
The 30-foot mobile health clinic is stationed inside batey Altagracia for a period of six months providing care to the impoverished population in general medicine, pediatrics, gynecology, ophthalmology, dentistry and preventive health education in HIV/AIDS. Future stops will be made at other bateyes where medical care is critically needed at the frontier zone, Barahona, San Pedro de Macoris, Santiago. BRA recently received land and building structures from the Dominican government to build next year a medical complex in the province of Monte Plata with a complete health care delivery system, a laboratory, a dormitory, a pharmacy and a warehouse. "These projects are part of BRA's plan to provide complete health care to 30% of the batey population by year 2007," said Dr. Raymond Thertulien, Medical Director of the BRA.
Víctor Manuel Báez, director del CEA, spoke at the inauguration of the mobile clinic. Approximately 200 people, including batey residents, the NGO community, BRA's volunteers and dignitaries attended the inauguration with joy and enthusiasm. Also present was Víctor Manuel Báez, Executive Director of the CEA, who offered "his gratitude to BRA for bringing life saving health services to the abandoned population of the bateyes."
The mobile clinic was funded by the Order of Malta, Lions Clubs International, New Jersey Lions Eye Glass Recycling Center, Sisters of Charity Mission Fund, and private donors. Drugs, medical supplies and equipment, and volunteer services are donated by Direct Relief International and Catholic Medical Mission Board. See version in Spanish at http://www.cig.gov.do/noticias3/130503-7.html
For more information about supporting this project financially or volunteering, contact Ulrick Gaillard at bateyrelief@mindspring.com. Please use our Donate Now! button at www.bateyrelief.org to make safely your money contribution.